******************************************************************************************************************
Always I look at each newly discovered axe, wondering where it had been and what it had done in times when so much was gained & lost in the clash of cultures. It is those stories that we really collect. Tomahawks are among the tools of those enthrawling slices of history, hopefully emparting the faintest pulse of the past to those of us few who hold them. In as much as is possible, we are collecting history itself, temporary caretakers for the next generations.
**********************************************************************************************************
Welcome to the Fur Trade Axes & Tomahawks website. My name is Mark Miller and I have been collecting tomahawks/trade axes for about 22 years, antique axes for 30 years and currently a professional tomahawk authenticator. For years, on & off, I have been researching the tomahawk/trade axe markings and their makers. To date I have recorded about 2,000 names and marks of blacksmiths who made these, most of which have not been published. After my Ebay Guide drew so much attention & some friends encouraged me to begin this website, I've decided to try to teach & encourage others who are thinking of collecting tomahawks and related axes. Having also collected other antique axes & tools of all types for muc of my life also perhaps gives me a unique perspective into various other types of axes that have been confused with the fur trade axes. I also enjoy collecting other items of fur trade collectables which has helped me distinguish certain features in the tomahawk catagory as well.
There are many, many outright fakes and honest reproductions whom sellers claim to be authentic which have been made from the time that originals were to the present. Of the Ebay tomahawks being sold as authentic at any one time, a 'misidentification' rate of 99% is not unusual. Not all of these sellers are dishonest people. With one antique dealer I asked if he was absolutely sure that his tomahawk was an authentic original period piece from the early 1700's and unhesitantingly he said that yes it sure was! Then I showed him the website with the identical trade mark of a reproduction maker who had been making those for 35 years. To his credit he quickly removed the item for sale but these were supposedly experienced antique dealers who sold for decades & could not distinguish a 30 year old tomahawk from a 300 year old one. Its tough sometimes. There are no classes or educational requirements for antique dealers & it is a daunting challenge for anyone. Just like their customers, some are more diligent than others when it comes to identifying & dating antiques. This site is intended to help separate the misinformation from the facts & give collectors a better sense of what to look for.
Much of this information concerning what to look for is not published & collecting tomahawks IS a competative sport so there isn't much incentive to share. Too much money has been wasted on junk while authentic ones go unnoticed so I'd like to begin trying to change that. After reading this website many of you may discover that tomahawks are not nearly as common as you once thought, but when you do find the real thing it will feel truly that much more gratifying.
In the spirit of Native American culture, I hope collectors will also look beyond their material objects and more into the religious and symbolic meanings of these objects as well. In European thinking, sometimes we can get bogged down in the mundane physical minutiae of these objects & lose sight of the history we craved in the beginning of our collecting hobby. So much of what we have been taught has been misinformation. From authors Longfellow, James Fenimore Cooper and George Catlin there was created the fearless and enigmatic 'noble savage' for Eastern readers thirsty for Western adventure to devour. Early descriptions of mindless, marauding, blood thristy, tools of the devil were also portrayed by the media of their day. The truth is more often in the middle of those extremes, but like any race, both good and bad exist. Even in today's media they are portrayed in movies as having supernatural powers and able to mysteriously shape shift into living animals at will. Some myths die hard & Hollywood doesn't help. It is well worth discovering who the authentic North American Indian of history actually was ...and is.
*******************************************************************************************************************************************
Originally (early 1600's Jamestown era) the Algonquin term 'tӓmӓhâk' used by the local Virginia Algonquian Indians referred to virtually ANY stone cutting implement. Then when Europeans began trading the iron hatchets the English corrupted version of the term tomahawk grew to apply only to iron axes traded to Indians in Virginia in the 1620's. As time went on the differentiation & also confusion between tomahawks and every other axe/hatchet expanded, much to the chagrin of researchers. Today most collectors and museums refer to stone tomahawks as simply 'stone axes'. What this website will be dealing with will be the metallic axes that were traded with the native Americans as well as trappers, hunters and explorers during the fur trade era of contact.
Besides Native Americans, men such as explorers, trappers, traders, hunters, riflemen and even Revolutionary War & War of 1812 soldiers carried tomahawks. Some used belt axes (smaller trade axes) with just the hatchet blade to carry on their side or back which was used as a weapon & as a tool for sectioning a large animal or making kindling to get a fire going etc. In the West they used Missouri War axes which were large thin bladed round polled axes which were 7-10" long and often used on horseback. Axes were traded almost from the first European contact period until the early 20th C. In the 20th C. they were obviously no longer used in as weapons but as symbolic items used in dances by that time or as tourist souveneirs, although the pipe tomahawks still portrayed great prestige among their owners.

Pipe tomahawks were used by Eastern and Western native Americans, white frontiersmen, & all were highly valued. They smoked it like a pipe with the handle being hollow & on the other side was a blade. The blade was used for chopping wood, as a weapon, or just symbolic and not used as either. The smoking of the pipe was a sacred practice having special meaning to them & probably the most important part of the pipe tomahawk. Native Americans believe that the pipe itself has both spiritual powers and actual powers but when the tomahawk was combined with the pipe that meaning took on even greater power to them of both war or peace. So many photographs were taken of them smoking pipes at treaty signings that whites interpreted them as "peace" pipes. Really it was a sacred way of initiating a dialog with the Creator with the spoken words that took place in a ceremony. It was central to any great decision.
Eastern Native Americans were quite adept at throwing tomahawks from an early time and practiced wrestling with them and knives to hone their skills.

Many of the tomahawks were made in Europe such as England, France, & Utrecht, Holland to be imported to North America. Many others were made by blacksmiths that were either independant traders or those hired by the govenment to satisfy treaties and to entice Native Americans to ally themselves to their side. To a lesser extent there were also some Indians who did blacksmithing for themselves, more often the pewter and brass ones although some did it in iron.


No website can be a substitute for conscientious research of publications and hands-on study of a wide range of specimens as well as listening to those whom are more experienced. Hopefully this website will encourage readers to learn more rather than allow this to be the extent of their education on tomahawks. Frankly we know so little about these objects that much of what we do know has to be drawn from clues here and there from records. Fur traders were in business so we know far more about their prices than we do about the specific variations of tomahawks & why they were preferred. With so many reproductions, deliberate fakes and wannabe experts out there it makes learning much more challenging. It requires a great sagacity and unbiased, dispassionate judgement based on experience & knowledge of both the originals and the fakes.
Much of a tomahawk's value is centered on it's 'degree of authenticity', as I like to call it--meaning the amount of doubt, or lack of doubt, concerning the identification of a particular tomahawk as an original genuine artifact by all concerned. When there is no doubt as to a tomahawk's authenticity then there are more bidders willing to pay more money. Unfortunately there are no unbiased, scientifically accepted tests available to us to unequivicably determine a trade item's origin & age other than experienced opinion which can vary from expert to expert. That is why authenticators with great reputations who study these on a daily basis are worth the money they are paid.
.................................................................................................................................................................................
Here is a nicely cast & polished reproduction of a Missouri War Axe made in India with pierced cut outs (sometimes just referred to as piercings) which has been and is available on the internet and re-enactor catalogs. But.....
BEFORE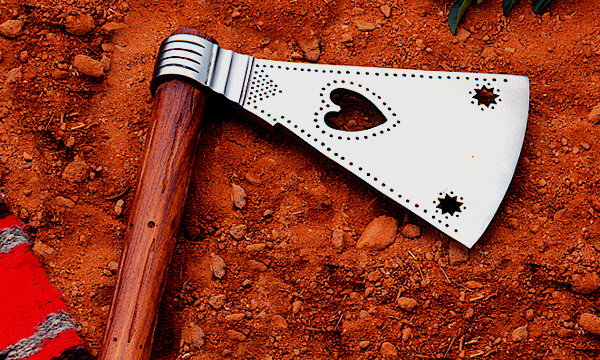 reproduction
....below here is what it looks like after it has been aged in an acid or salt solution with a handle that has been doctored with tar or black paint. Notice the exact same fluted grooves, 8 pointed stars, dotted outlines, shape, decorative notch, dimensions, etc as the previous one. The blackening of the handle near the eye (see arrow) was meant to simulate the natural leaching of iron to bare wood contact over many years exposed to the weather. Notice the artificial leaching appears blotchy like it was applied here and there, and appears more like a surface coating rather than ferric oxide leaching out and soaking into the wood fibers. Look for signs of hand forging (lapping over of iron inside eye) or if it was drop forged or cast (no seam remnent inside eye or inside piercings). Complete originals have been sold for up to $44,000 and far better fakes than this are out there. See pages 17-20 for more characteristics to watch out for and also my Ebay Guide.
AFTER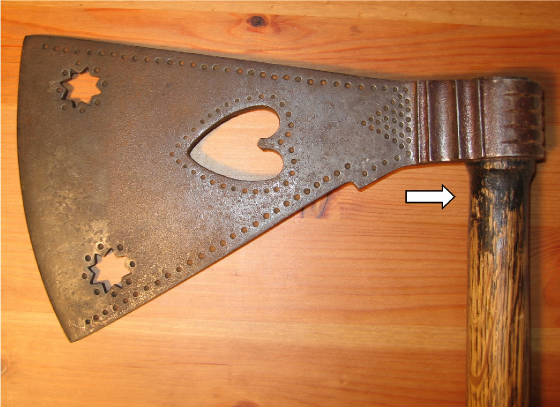 STILL A REPRODUCTION --FAKE 'PATINA' ADDED
............................................................................................................................................................................................................
This particular authentic pipe tomahawk is probably the most often photographed. It has many gold and silver inlays, multi-faceted bowl, ornately engraved on blade & inlays, and an ivory stem marked on the handle P.C. Angstadt-- Peter C. Angstadt, a Kentucky-Pennsylvania rifle maker in Berks County, PA. It is believed to have been made between 1800-1815 when he was at the peak of his craft. Angstadt lived from 1765-1815 although the faceted bowl style is thought to date to at least the late 18th C. The engraved 'F. Hoff' was the person it was presented to. Pennsylvania/Kentucky rifle gunsmiths were already adroit at engraving, woodcarving, silversmithing, and forging so more than a few of them were employed to make these fancy pipe tomahawks as presentation pieces to Indian Chiefs. Even the curly maple haft matches their rifles.
Peter C. Angstadt Presentation Pipe Tomahawk